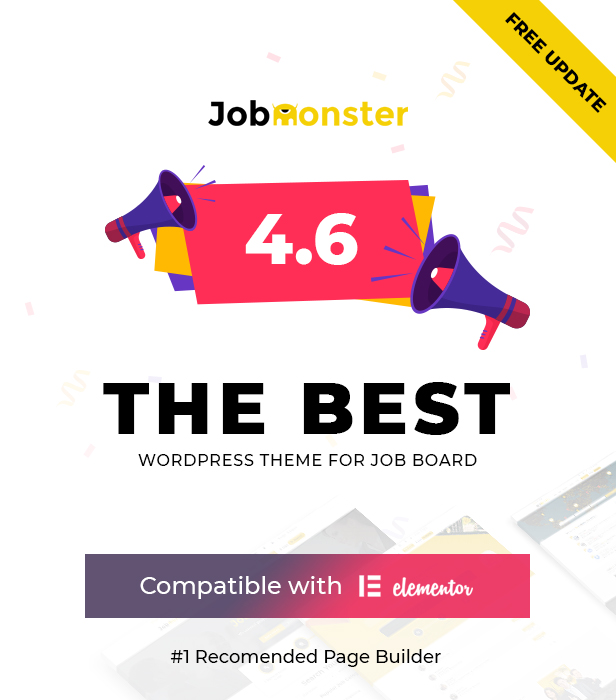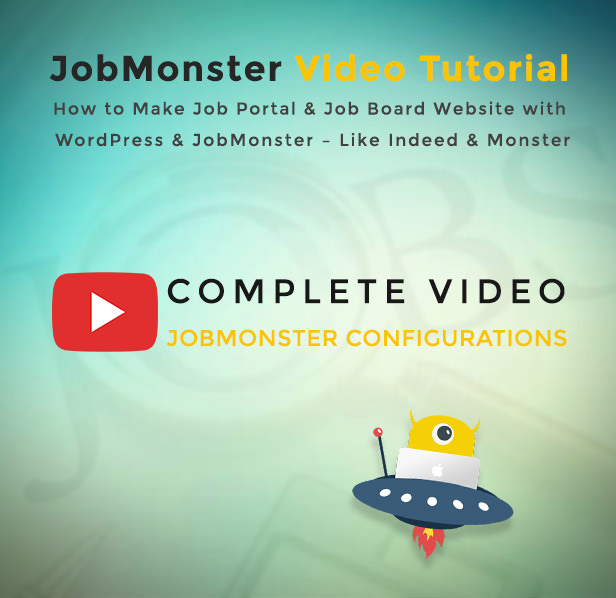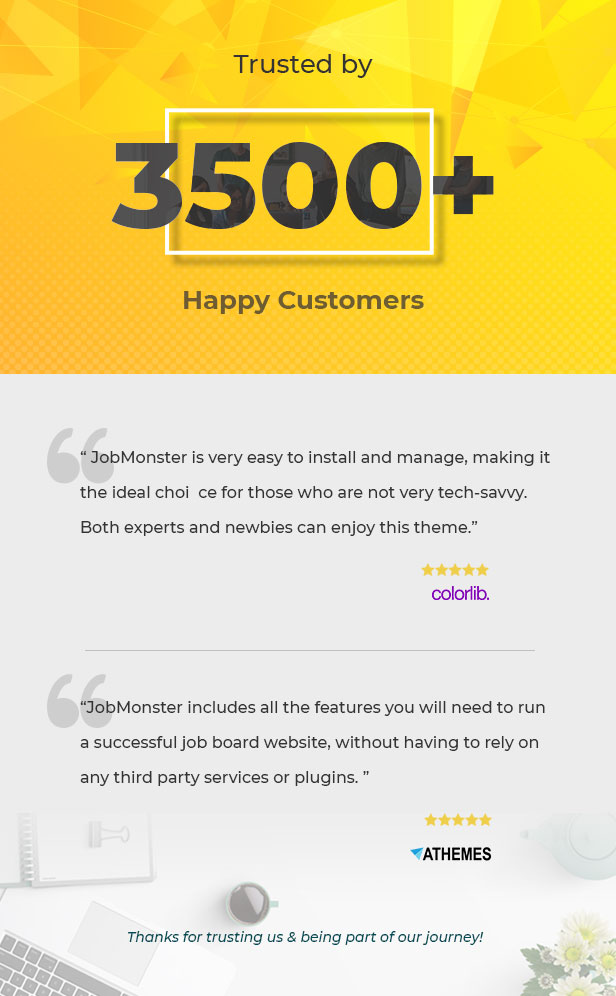 As an expert in Job Board and Listing Industry, Jobmonster has never disappointed the customers. The Job board WordPress theme was born to be the bridge that connects employers and candidates.
Jobmonster brings on the table new features like Modern Job Advanced Search, Front-end Resume & Job submission, Easy installation and customization, Edition for Admin Review, Job Posting Pricing Plan, Email Notification and much more.
The theme allows customers to try out different homepages and other pages with a super easy one-click demo importer that allows users to set the job board site in minutes. In the previous versions, Jobmonster integrated with WPBakery Page Builder (formerly Visual Composer) and Slider Revolution will push your building process more easily and quickly.
Users can create beautiful sliders with amazing effects by using Slider Revolution and craft the site with tons of custom featured elements from the most popular page builder – WPBakery Page Builder.
Recently, we have been working with many efforts to release a new version of Jobmonster. Jobmonster now compatible with Elementor which is the trendiest page builder for WordPress at that time. Now you can choose to customize your homepage with WPBakery Page Builder or Elementor.
This is flexible because you will be able to create complex layouts according to your imagination within minutes.
Besides, Jobmonster successfully takes advantage of the WooCommerce integration that allows users to easily build packages, create add-ons for packages, selling packages with more payment gateways (PayPal, 2checkout, MasterCard, Stripe, etc).
The Job Board theme equipped you everything to build a powerful job board site in a simple way that is a result of years of searching and developing about the Job Board Industry. Jobmonster keeps going with continuous updates to be one of the best job board themes always.
New Package for Employers
JobMonster now offers a new package for employers – The employer Package. The package adds tons of new powerful features, especially with resume details and jobs details. Users now can easily choose to show/ hide any fields which are offered in the resume detail and job page.
Also, the new package gives you some new functions in jobs as refresh job, allow to view candidate contact and change the number of viewing, etc.
Support Google Maps & Free Open Source Bing Maps
The new version will support Google Maps and free open source Bing Maps which are so useful in Job location for an exact result. Specifically, this feature allows users to search their cared jobs in an exact radius basing on their current location.
Many Powerful Functions
Jobmonster provides lots of powerful functions in Jobs listing, Companies listing, Jobs detail, Resumes listing, Resume details. You should visit the theme to get these functions in detail.
For instance, on the job detail page, you will get some new options as sharing on social networks, applying via Facebook or other new functions as job follow, view more, quick view, etc.
Convenient front-end management dashboard
Both employers and candidates feel comfortable with Jobmonster which gives them an easy way to manage jobs as well as resumes.
You can find out separate sections in the employer management dashboard including the management of Jobs, applications, messages, shortlists, advanced filters, etc.
Regarding the Candidate dashboard, you can easily manage Resumes, Applications, Job alerts, bookmarks, follow and so on.
Job & Resume submission
Jobmonster allows users to get the frontend submission, much easy. Employers and candidate simply submit and edit jobs directly on the frontend following submission steps and choose one is the best.
Amazing Functions in Jobs listing
Jobs listing plays a vital role in your job site, whether the job are display nicely and reasonably for users to find out or not. So, choosing the job listing which is suitable with your aim is so important.
Jobmonster gives users more options in the job listing page including send to a friend, save, share, email me jobs like these, etc.
Advanced Filter
Saving the time to find out what you need in the fastest way, Jobmonster upgrades the job search and job filter on each page. In the new version, we add a new search style of search filter which helps you easily filter jobs by categories, type, location, tag, distance, and so on.
Unlimited Numbers of Custom Fields
Jobmonster allows users to smoothly manage jobs, resumes, and other related job fields by offering specific custom fields for Job, Resume, Candidate, and Application Form.
Smart Advanced Search
Both Candidates and Employers can easily find what they need with lots of specific fields in the advanced search section including keywords, location, category and you can change the search fields as your liking.
WooCommerce Integration
The best eCommerce WordPress Plugin allows users to easily build packages, create add-ons for packages, selling packages with more payment gateways including Paypal, master card and so on.
Responsive and Retina ReadyWe care about every user and how they access to our job board site. Jobmonster is tested thoroughly to keep its sharp look anywhere.
9 Home Variations

Resume Home
Jobs Listing Home
Search Map Home
Candidate Home
Career Home
Recruitment Home
Job Categories Home
Hiring Home
Employer Home

Frontend Job Submission and Edition for Admin ReviewEmployers can submit and edit jobs directly in the front end following submission steps. Admin then can review to approve or reject a job.
Frontend Resume SubmissionCandidates can post a number of resumes directly in the frontend following submission steps and choose which one is searchable.
Job Posting Pricing Plan with WooCommerce IntegratedYou can set the number of job posting plans. Payment can be completed effectively with WooCommerce integrated.
Resume Posting Pricing PlanYou can set the number of resume posting plans effortlessly.
Employer Management DashboardEmployers can edit Company profiles, manage jobs, view and respond to applications from candidates.
Advanced Custom Fields with SearchJobmonster includes tons of advanced custom fields with search, such as: Text, Number, Email, URL, TextArea, Select, Multiple Select, Radio, Checkbox, DetePicker, Image Upload, File Upload, Video.
Private Message between Employer and Candidate (Integrate with Frontend PM Plugin)The theme integrates with the Frontend PM Plugin which has a private message between employer and candidate to connect them to each other and facilitate their reaction.
Candidate Management DashboardCandidates can edit profiles, manage resumes, view jobs applied, bookmarked jobs, and manage job alerts.
Apply for Jobs in 3 Flexible WaysCandidates can apply for jobs by uploading CVs, choosing from their online resumes on Jobmonster
Employers Approve or Reject Applications with Message to CandidateJobmonster allows you to enable admin to review then approve or reject job submission from Admin panel.
Company Directory in 2 layouts: Alphabet & GridView Company listing in Alphabet and Grid and Company profile with their available jobs.
2 Layouts for Single Company PageThere are 2 layouts available for Single Company Page for you to choose.
Job Alerts and Bookmark JobsWe just added the Job Alerts and Bookmark Jobs function to help the candidates easily approach their ideal jobs.
Slider Revolution Built-in (Save $25)It also includes a powerful Slider Revolution Plugin that enables you to impress both candidates and employers.
Every action Comes with Email NotificationsBesides Job Alert sent to the email of the candidate, most actions of Jobmonster come with email notification inflow.
Powerful CustomizerAll NooTheme themes are equipped with the super powerful Customizer. Working as the familiar original WordPress customizer, Jobmonster Customizer is much more versatile where you can configure and change the settings of almost every element on your site.
It is easy to use with the Custom bar on the left side and live preview screen on the right side that adjusts along with your changes in real-time. Play around until you are satisfied with your website's look and just after click Save & Publish, all the settings then will be public in the frontend.
No need to shift back and forward between dashboard and frontend to see your changes and keep it private from visitors. You also can import and export your setting to use for the next website using Jobmonster.
Login with Social networksNow the candidates can absolutely log in with their social accounts. including Facebook, Google and LinkedIn.
Indeed IntegrationThe theme integrates with Indeed – the most comprehensive search engine for jobs.
ReCaptcha IntegrationReCaptcha available in Login Form, Register Form, Apply Job Form and Company Contact Form
.
WPBakery Page Builder (formerly Visual Composer)The best-selling drap & drop page builder for WordPress (worth $45)
Elementor compatibleBuilt and perfectly optimized for World's best page builder
Woo Commerce integratedJobmonster allows you to create job posting packages and enable on-site payment fluidly using Woo Commerce WordPress plugin
Translation ReadyJobmonster supports multilingual translation using WPML or POEdit. Jobmonster includes lots of translated languages:

French
Spanish
Portuguese
Portuguese Brazil
Russian
German
Mexican
Arabic
Dutch
Rumanian
Turkish
Latvian

Unlimited color and Google FontJobmonster is super flexible. Almost its elements' color can be changed handily in our Theme Customizer
Extensive DocumentationWe included in the theme package a dedicated document file to guide you step by step in installing and customizing the theme. You also can find the detailed online guide on our support center here
Regular UpdateWe keep updating the theme regularly with more addon features and minor bugs fixed. Just one-time payment, you will get the update lifetime for free
Top-Notch SupportIn addition to dedicated documentation, the very developers of Jobmonster will support you. We are happy to support you to build your amazing website,