AffiliateWP Tiered Affiliate Rates will allow you to reward your affiliates with higher commission rates the more they earn and/or the more successful referrals they generate.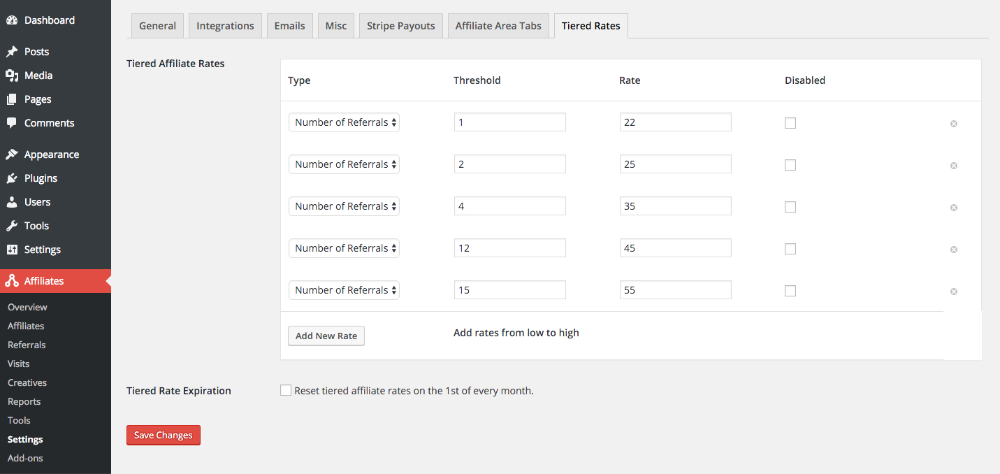 Once installed, you will have a new Tiered Rates section in your AffiliateWP Settings. On this screen, you will be able to create as many tiers as you wish.
Tiers consist of four options:
Type: what kind of tier is it, affiliate earnings based or referral count based
Threshold: the number of referrals or the total earnings an affiliate must reach reach to get the tiered rate
Rate: the rate the affiliate is given automatically when they reach the threshold
Disabled: whether the tier is disabled
Tiered Rate Expiration

You can enable the Tiered Rate Expiration option to reset tiered affiliate rates on the 1st of every month.
With Tiered Affiliate Rates, you can easily setup a commission rate tier like this:
0 – 100 referrals = 20% commission rate
101 – 200 referrals = 25% commission rate
201 – 500 referrals = 30% commission rate
501+ referrals = 35% commission rate
Or even one like this:
$0 – $100 in affiliate earnings = 20% commission rate
$101 – $200 in affiliate earnings = 25% commission rate
$201 – $500 in affiliate earnings = 30% commission rate
$500+ in affiliate earnings = 35% commission rate
With Tiered Affiliate Rates, you can easily setup a reward system where your affiliates are rewarded with higher and higher commission rates as they refer more customers.
It's been proven over and over again that providing your affiliates incentives like higher commission rates dramatically increases the affiliate's likelihood to actively promote your products and/or services.
مشجع ومحفز رائع للشركة والمستويات سهلة ومريحة
Is the product original?
Yes of course, because we buy products from the original author and resell them.
How The Prices Are So Low?
All WordPress items such as plugins and themes are licensed under the General Public Licence (GPL). This means that once we have purchased the item we are free to redistribute it if we choose to do.
Why Are These Plugins/Themes Asking Me For A License Key?
Ignore it. Developers include these so that the plugin or theme can update automatically or so that you can register for support. The item itself will work perfectly fine without anything being entered in the box. We would recommend updating your theme/plugins manually when updates become available on our site.
Can I order a newer version of a specific product?
Yes, You can open ticket, and we will update asap in business day. ( Normally less than 24 hours, except holidays period )
Do Provide Support?
We provide basic support for installing plugins and themes.